The Proven most Successful niche
Good to see you!
I don't know how you reached this blog?
via Google organic search?
Though it doesn't matter at all. Until you know why you have searched this term.
You might be a photographer or have a keen interest in photography. If not among these two then might be you want to know how to make a blog and you know the imperative of photography.
If you have landed on this blog it means you are aware of photography and also about blogging. I am not going to discuss the basic things. This article focuses on how to start a photography blog.
Starting from the mindset, process and different tools required to start it. To get a productive outcome from it. In terms of monetary or getting famous.
If you are here to start a blog for fun because you love it then don't waste your time. Your time is important. If you are dedicating your time to something, give it a clear vision. In short, time is money.
Start with a goal to make it a successful blog.
Things to know before you start a photography blog

Photography Website
You can call it a portfolio website. Where you provide information about the services you offer to a specific market.
For example, A wedding photographer has a wedding photography website. Where he has mentioned about his services and uploaded his portfolio. It focuses on clients. You provide service through this website to your clients.
Los Angeles wedding photographer is the best example of a photography website. How to start a photography website compare to blogs is slight different. It generally has Home page, Service page, About us page and Contact page.
Photography Blog
A blog is also a part of a website but it has a different way to present it. It is a kind of post where you share your experience, knowledge or whatever you want to share.
It focuses on generating traffic/followers. Your main motive is not to provide services through your blog. Your motive is to provide information. It can be anything.
Although you can have both the concepts together in one website. But both have a very different perspective. I hope you have understood the basic concept.
So to make it clear this article is to learn how to create a photography blog. Not a photography service providing website.
Petapixel.com, dpreviews, digital-photography-school.com, expertphotography.com are the best example of a photography blog sites.
Photography blogging mindset
Ask these questions to yourself.
Why do you want to start this blog?
Why a blog for Photography?
What drives you till here?
Write down the answer to these questions. It will play a crucial role in building your successful blog.
You should have a clear mindset.
A mindset of starting it
A mindset to learn
A mindset of not giving up
A mindset of being consistent
A mindset of making this a successful blog.
A mindset of not dropping it until you achieve.
A person having a positive mindset can achieve anything.
When I started my first blog I didn't know these things. Here you have got an opportunity to avoid the major mistakes to save time and learn more.
Without wasting your time. Let's dive into the blog.
How to Start a Photography Blog?
The Article is divided into four parts.
Part 1: Foundation
Part II: Content Creation
Part III: Traffic
Part IV: Monetisation
Part I: Foundation
Domain Name Registration
To start your blog you need to buy a domain name and once you do it. it will get registered. Before you buy it you have to decide a Name for your domain. To decide if you can do brainstorming.

Brainstorming domain name
You can name it anything you want. To make it look and sound more professional you can name it on your own name. For example Michaelphotography.com.
You can name it as a brand name, for example, photoblog.com, shutterblogging.com, clickblog.com etc.
Try to get a .Com extension because its a worldwide known and generally people type .Com for the websites. If you don't find a .Com extension with your chosen domain. Then you can go with some other extensions like .org, .net and so on.
But if you are targeting a global audience then try to get a .com extension. I have purchased my domain name from godaddy.com. You can check other domain service provider also for better offer. I have few domains with NameCheap.
Hosting
Hosting is a place(Server) where all the databases like (content, photos, videos, graphics, plugins) of your website are stored. Once you buy the domain name you have to integrate/propagate it with your hosting. You can select any hosting company as per your needs.
The few recommended web hosting companies are as follows: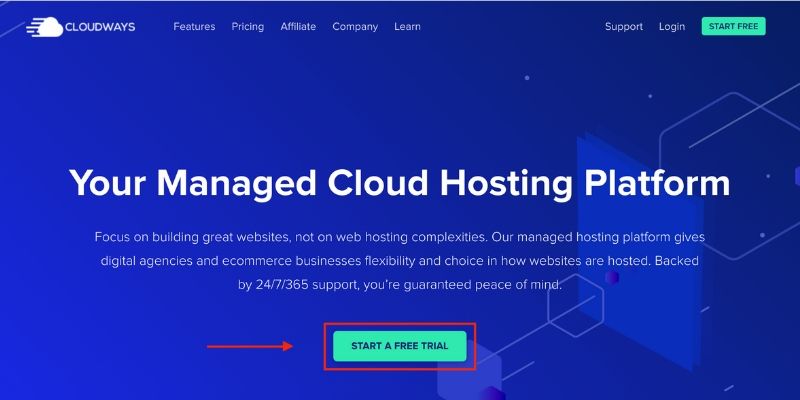 For this website, I am using Cloudways. I have a great experience in hosting. According to my experience, choose a hosting company that can handle the following. Your website traffic, it's safe, fast and which provides good customer support.
One of my websites gets hacked more than 10 times. After this huge frustration, I decided to change my hosting. I did a lot of research and found cloudways. The reason for selecting cloudways are :
It has many renowned hosting companies under one roof like Digitalocean and Amazon.
It's very easy to set up.
Instant customer support
It provides free SSL certificate
To select your hosting consider few points like:
Price: How much you want to spend on your hosting.
Traffic: If you are starting, that means you don't have traffic so you can go for normal hosting. When your traffic grows you can change your hosting. It's not a big deal.
Note: I recommend digitalocean in cloudways. It will save you time and it has a very great response. But cloudways does not provide email service for free.
Note: You can buy the domain name and hosting from the same company if they provide. But I prefer choosing separate for domain and hosting.
WordPress
WordPress is the content management system (CMS). The backend of your photography blogs. Where you manage your contents, build your website and design the structure. This is the place where you control the website.
There are many more website builders or CMS providers available in the market. But I don't want you to waste your time. As WordPress is best for photography blogging. It is ruling the market and it deserves that. The best part of WordPress is:
It's open-source/free to use.
Easy customization
Lots of free plugins and themes are available.
Uniqueness
Once you have done with your domain name and hosting. Now you have to install WordPress in your server i.e in your hosting. The installation of WordPress may differ in hosting companies. But the outcome is the same.
In cloudways its very simple to install. Here is the complete process.
In another hosting, you will find a WordPress software in the Cpanel, which you have to click to install it.
Once your domain name gets propagated with your hosting. You can start building your website on WordPress.
Building Your Blog/Website
Theme
The theme controls the design and branding factors of the blog. There are many free themes available for WordPress. Theme plays a very vital role in the performance of the website. Like the speed, analytics, user interface, conversion etc.
Always choose a theme which has the following features like:
Speed
Simple and Clean
Responsive
Seo friendly
These things matter a lot when it comes to website ranking in Google or any search engine.
Our recommendation for the theme are:
I am using the free version of Astra on this website and it's doing a great job.
Plugins
Plugins are the tools which help in building the website. And helps in increasing performance. The few most important plugins to install are :
Analytics plugin: Install Header & Footer Scripts and connect it with your google analytics. It helps in tracking and analysing the traffic details.
SEO plugin: It helps in optimizing your blog for search engines. And also integrate with google search console and social media. Search console is a google product like google analytics. Which track the performance of the website to index it on google. I am using rank math for an SEO plugin and its working pretty well. Although the most famous one you have heard of is the Yoast SEO plugin. But now I don't recommend it.
Content Delivery Network CDN
Picking the content from the nearest network of the person who has searched your blog. It is a content delivery network of servers.
It linked together with a goal to deliver contents as fast as possible. Being reliable and safe.
For example: when you host your website with CDN. And you are sitting in the USA and searched for something on google.
You will receive the blog from the nearest network from your location. It helps in increasing the speed and connectivity to deliver the content to the users.
For CDN I am using cloud flare on this website. It's free and amazing. Why should we use CDN?
It helps in
Increasing website speed
Improve website security
Improve website load time
Increase content availability
Reduce hosting/bandwidth cost
Navigation menu & Category
Now create a menu and category for your blog.
Menu example:
Home
About
Contact
Privacy policy
Category example:
Photography tips
Pictures
Reviews
Follow the below steps to create a menu and category for your blog.
Page Builder
A website builder helps you to build your blog. It helps in structuring and designing the website. It is the plugin which helps you to create an attractive, neat and clean website. With amazing look and feel.
You can use a free website builder to build your website but I will suggest not to use a free one.
I recommend the Elementor Pro page builder. It is the best available website builder. There are many factors to select elementor pro but the few important ones are:
You can customize the header and footer.
It has dynamic features. You can customize anything in it.
You can make any type of website with it.
You can control the theme colours for branding.
We have done with the 1st Part. So till now, you have learned about
Brainstorming domain name
Purchasing domain name
Purchasing hosting for your blog
Installing WordPress
Installing all the required plugins
Purchasing elementor Pro page builder
Created the Navigation Menu and category for your blog
Now let's move to Part II
Part II Content Creation
Once you get done with constructing your website. Now you have to post contents in your blog. Contents can be of different forms. Written, audio, video, pictures, infographics etc. Here you will deal with writing contents.
Now you have to write articles and start posting it in your blog. You can produce two types of contents.
Informational contents: You can provide photography tips, your recent shoot experience, teach photography. And guidelines of how to click pictures at low light, etc.
Commercial contents: You can give a review of any products. Share your pictures for sale or write a blog to sell a photography learning course.
When I first started blogging I wasn't having any idea about these things. I started writing articles and kept on posting them on a regular basis. During the journey, I made many mistakes and learned a lot.
I am sharing those things with you so that you don't repeat such mistakes.
Consistency
Be regular with your post. Let me tell you what happened to my website. when I was not consistent with it. I was active and posted 5 articles. I did it for two weeks. After that, I didn't post any articles.
I was curious to see some results on google but I didn't see. So I got engaged with my photography and did not post any articles. After 6 months, when I opened my search console I found 80 keywords were ranking. I got astonished.
But at the same time, I thought it happened when I was not regular to it. Let me be consistent with posting a blog. I did it and saw a very drastic growth in my keywords ranking.
My suggestion is to be consistent with your contents. Post least of 2 articles per week. And keep on doing until you succeed.
Valuable content
When you have got the opportunity to utilise it by producing value. Selecting a niche/topic for your blog is a difficult task. You being a photographer or interested in photography has got an advantage. So take it.
There is no room for poor contents in these niches. Write contents that provide value to your readers. That will help you generate more traffic. Later on, in the next part, I will talk about traffic in detail.
There is a huge competition in this niche. So you need to produce value to stand out among the others. What to do to create valuable content?
Do proper research on the topic
Source your facts
Avoid passive voice and use active voice in your writing style
Write appealing blog title
Make it easy to read
Neat and clean
SEO friendly
Here you will learn. How to Make a photography blog SEO friendly. If it's not then there is no point in writing blogs. As search engines should love your contents. Search engines will love your contents when your users will love it.
It should be readable, neat and clean.
To do that follow these things. Write h1 follows with h2, h3 and h4. Write one H1 and keep the subheading with H2. put the other subheading with h3 and h4. Check out the below images for better understanding.
A search engine is a software called the spider or a crawler. And it only understands text languages. So make sure you write good content.
Wait wait. Do you have any questions?
If it is SEO then keep on reading in the below section I have explained what is SEO?
Add pictures and Video
You can add pictures and videos to make your content valuable. You can use your own clicked pictures in your blog to make people understand it. You can also embed a youtube video for more understanding. Sourcing other contents will build trust with your readers.
Ideas for writing photography contents
There are n. numbers to things to write in photography. You need to start. Though here are few photography blog ideas to make it easy for you.
Look for your competitors
Search it in google and look for your competitors
Use buzz sumo and see which content has more share
Write everything which you have learned in photography
Write your photography tips, tricks and techniques
Share news and latest updates of the camera and other equipment
You can hover over social media and find some good topics to write
Talk about different types of photography
How to write content that generates quick and more traffic?
Writing great content that generates more traffic and income is a skill. It can be acquired by learning and practising. When I first started I wasn't knowing anything about content writing. I kept on reading blogs and came to know that content is the king.
With lots of blogs and books. I have gathered some information that will help you with writing great content. A content that generates more traffic.
Curiosity: Add curiosity to your heading. The headlines that arouse curiosity to the readers are the best headlines. For example, Your blog can earn $10000 per month. There is a curiosity of How?
Self-interest: Make your heading appealing. It is the best headlines that appeal to the reader's self-interest. The headlines based on readers benefits.
News: It is one of the best headlines to give news. You can start your headlines with some news. For example, New ways to make money with photography.
Quick and Easy: The next best headline is that which gives a quick and easy solution to the readers. For example, 10 easy steps to grow your blog traffic.
Slippery slides: Use this technique in your writing style. Write a heading that compels the readers to read the subheading. Write a subheading that makes the reader read the first sentence of the first paragraph. Keep the slippery slide until they read the complete articles. I have learned this technique from a book of legend copywriter Joeshep Sugarman.
Avoid filler: Don't write unnecessary things to increase the word count. Add value to your contents.
Avoid passive voice: Write your article in an active voice. Don't write it in the passive voice.
Wish you to write rich value content for your blog. Remember content is the king. But don't worry about anything. Don't worry about making mistakes. Be consistent even if you are making mistakes.
The only mantra to success is to start. Go start writing some good content. And keep reading further to make more with your blog.
Now let's jump into part III
Part III Traffic
Well, we have done with the content writing and here I want to tell you something. You have started this blog by devoting your time. It was not started to have fun or do time pass or because you love writing.
It's good to be passionate about something. But when you give time to your passion make sure you give a proper direction to it. It is your opportunity that you started blogging in the photography niche. Which you are passionate about.
Generate traffic to reach your blog to a mass audience. Make a goal to help a larger group of audience with your knowledge and experience. This should be your prime motive.
Coming to the topic let see
How to generate traffic for your photography blog?
There are many ways you can generate traffic for your blog post. But focus on organic traffic i.e getting traffic from search engines like google and Bing. Search Engine Optimization SEO helps in getting organic traffic from Google.
The different ways are as follows:
SEO
SEO is a very basic common term these days but if you don't know about it. Then let me give you a brief idea. There are search engines like google and bing. If you have any query you can search over it. It will display all the top websites on the search engine result page SERP.
Now you have to optimize your website for those search engines. To make your website appear on the SERP. Most people focus on the google search engine.
The optimization has two ways to do:
On-page Optimization: In this, you optimize the website. You work on your own website. The few basic things you need to consider in this are Title, description, H1, H2 H3 and using Alternative tag.
See the below picture for better understanding.
Off-page Optimization: When you optimize your website with other websites. Doing things outside your website.
The best example of off-page optimization is LINK BUILDING. It is a process where your blog URL is linked to someone else's blog. It helps in generating traffic and building trust. And this process is vice versa.

Please note: Google don't like Link Exchange, Purchasing paid link. It's against the google policies. So make sure you ask for genuine link. That should be related to your Niche.
Social Media Optimization
Social media can be utilised to generate huge traffic for your blog. As we know people are more into it these days. You can choose your social media according to the types of audience you are focusing on.
Here are few Social medias a photography blog should focus on.
Youtube: I am sure I don't need to tell you about Youtube. But let's see what types of contents you can produce on youtube. Whatever article you post on your blog you can make a video of it. You can make a video about your experience. Photography tips and technique, review about camera and photography related gears.
Facebook: Make a Facebook page and group. In which, you can share your post.
Instagram: Instagram is a photo-sharing social media. Where you can share your content and photographs to your followers.
Pinterest: Pinterest is another interesting social media to share your contents.
Linkedin: It's a professional kind of social media. Today most of the top companies hire their employees through LinkedIn. You cannot ignore it.
Twitter: You can share your news and post into twitter handle. It has a very wide audience. You can target high authority and get connected with them.
Tiktok: Shocked? don't be. All the attention of youngsters is on TikTok. So if your targeted users are young people then, definitely create an account on TikTok.
Podcast: The growing audible media. You cannot ignore this. Do checkout with it.Focus on social media once you write a good amount of contents like 10 to 15 articles. Or until it started generating organic traffic. After that, you can link your blog to all the social accounts.
Let's check the fourth part
Part IV: Monetization
As discussed earlier in the previous part, blogging was not for fun. It's good to have fun doing blogging but give direction to it.
Let me tell you a story about a boy. He started his blog with full energy, dedicated and consistent. He was completely into his blog. He was doing good. But he got distracted and couldn't focus on his blog.
He got distracted because he had to pay his bills. There was no money for food and rents. He tried to sell his bike but nobody took interest in it. Depression was hitting into his head. So he decided to join a job.
Went for many interviews but did not get any job. In one of the interviews, he came to know that photoshop is mandatory these days. After that day's interview. He came back home and started learning photoshop from youtube.
Within a week he completed photoshop and started practising from that day itself. He Didn't stop after that.
You might be thinking. Did he go for the job interview again after learning?
No, he didn't.
He kept on practising photography and editing those pictures. And he was regular on posting his photographs on Instagram. One day he was in need of money. So he launched an offer of $14 for a professional photo shoot. You know he got 10 enquiries but only 1 person turned out.
That's how he made $14 that day. Now He started doing freelance photography to pay his bills. And that's why he couldn't continue on his blog.
But after a few months again he continued his blog and monetized it to earn money from it.
The point here is when you start your blog you have to monetize it. So that you can make some money out of it. If it takes your time it should pay you some income.
The person "HE" in this story was me. And during this process, I have discovered how to make more money with photography.
Now let's see how you can monetize your blog.
Once you generate huge traffic there are many ways to monetize your traffic but the best one for you is as follows:
Google Adsense
Google Adsense is a product of google. It provides facilities to publish ads of different advertisers into your websites. In short, it is an advertising service provider. Where google pays you for displaying other ads on your website.
To get registered with AdSense you need to follow the guidelines. Provided by Google and apply for an Adsense account. Once you're done with the registration you can display ads on your website. When a random user clicks the ads you will receive money per click into your account.
But remember for the sake of earning quickly don't click yourself or don't ask someone else to click it for you. Google is very strict with its rules. They will block your Adsense account. And also follow the guidelines properly to open your AdSense.
Don't be in a hurry and make mistakes to get registered.
Affiliate Marketing
When you sell someone else's product through your website. And earn a commission is affiliate marketing. If it is that simple, then why not everyone is doing affiliate marketing? Yes, good question.
Many people try to do affiliate marketing but drop it in the middle of the process. It requires hard work, focus, consistency and patience. When you start it, keep on going until you succeed.
In photography, there are many products to sell as an affiliate marketer. You can affiliate the following products:
Camera
Equipment
Photography courses
Accessories
Lens
You can affiliate these products and get a commission from it. There are many websites that provide affiliate programmes. Like Click bank,
The best one is Amazon and Adorama for Photography niches. Do follow their guidelines before affiliating products from their websites.
Create and Sell course
This is the third stage of earning from your blog. As it is a very high-income source to make money online. Don't jump into selling courses online. Once your blog gets popular and you start getting huge traffic.
Then you can create your course and sell it on your website.
Direct Advertising
Once your website gets established and you get a good amount of traffic. Then you can provide a service for direct advertisement. But the question is how will I get clients for it. Most people will contact you for this in your email id.
If you agree with the budget you can display their ads. If not then you can deny. The second option is you can display a banner in your website saying. Advertising space contacts us or for advertising contact us.
Sell your photos
You can make a separate page where you can display your recent work for sale. You can also write a blog to sell your recent work. There are many photobloggers who earn good amounts of income doing such things.
Photography services
If you have time after doing regular blogging. You can provide photography services also. Make a separate menu and mention the types of service you give. Like wedding photography, fashion shoots, product photography, kids photography etc.
And also share your pictures on that page. Also, write a blog for your recent works to get more clients. but it is not necessary to provide photography services along with your blog. It is your call.
So here we have completed the fourth part. You have learned how to monetize your blog with best possible ways.
Conclusion: So let's Start
Wow, you have completed the article. You have learned so many things to start a profitable photography blog. You have learned how to make a mindset and start your blog. You have learned how to build your website from scratch. Purchasing from domain name to designing the structure.
Then you have learned how to create contents for your blog. Further, you have learned how to generate traffic for your blog. In the end, you also came to know the different ways to monetize your blog.
Now go and start it.
If you are still confused or finding it difficult or worried about mistakes. Then do this.
Start it.
Don't worry about mistakes or anything. The only key to success is your first step so start it without thinking anything.
I go through all the queries in the comment section, if you want to ask anything please comment below.
P.S: Avoid more than one niches in your starting stage. You have to focus on one blog to get a fruitful result from it. Once your blog gets established you can start another blog in a different niche.